Dietary Supplement
A dietary supplement, also known as food supplement or nutritional supplement, is a preparation intended to supplement the diet and provide nutrients, such as vitamins, minerals, fiber, fatty acids, or amino acids, that may be missing or may not be consumed in sufficient quantities in a person's diet. Some countries define dietary supplements as foods, while in others they are defined as drugs or natural health products.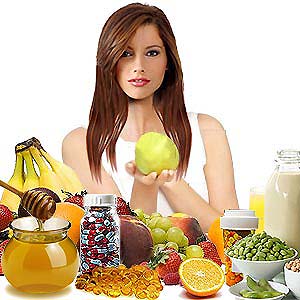 Supplements containing vitamins or dietary minerals are included as a category of food in the Codex Alimentarius, a collection of internationally recognized standards, codes of practice, guidelines and other recommendations relating to foods, food production and food safety. These texts are drawn up by the Codex Alimentarius Commission, an organization that is sponsored by the Food and Agriculture Organization of the United Nations (FAO) and the World Health Organization (WHO).
Dietary supplements are vitamins, minerals, herbs and other substances meant to improve your diet. They can come as pills, capsules, powders and liquids. Supplements do not have to go through the testing that drugs do.

Some supplements can play an important role in health. For example, pregnant women can take the vitamin folic acid to prevent certain birth defects in their babies. Taking supplements can also be a type of complementary or alternative medicine (CAM).
To take a supplement as safely as possible
* Tell your doctor about any dietary supplements you use
* Do not take a bigger dose than the label recommends
* Stop taking it if you have side effects
* Read trustworthy information about the supplement
NIH: National Center for Complementary and Alternative Medicine
Dietary Supplement Fact Sheets

A
* Aloe Vera
* Anabolic Steroids
* Astragalus
B
* Bilberry
* Bitter Orange
* Black Cohosh
* Botanical Dietary Supplements
C
* Calcium
* Carnitine
* Cartilage
* Cat's Claw
* Chamomile
* Chasteberry
* Chondroitin
* Chromium
* Coenzyme Q10
* Colloidal Silver
* Cranberry
D
* Dandelion
* Dietary Supplements
E
* Echinacea
* Ephedra
* Essiac/Flor-Essence
* European Elder
* Evening Primrose Oil
F
* Fenugreek
* Feverfew
* Fish Oil
* Flaxseed
* Folate
* Frequently Asked Questions
G
* Garlic
* Ginger
* Ginkgo
* Ginseng
* Glucosamine
* Goldenseal
* Grape Seed Extract
* Green Tea
H
* Hawthorn
* Herbal Dietary Supplements
* Hoodia
* Horse Chestnut
I
* Iodine
* Iron
K
* Kava
L
* Lavender
* Licorice Root
M
* Magnesium
* Melatonin
* Milk Thistle
* Mistletoe
* Multivitamin/Mineral Supplements
N
* Noni
O
* Omega-3 Fatty Acids
P
* PC-SPES
* Peppermint Oil
R
* Red Clover
S
* SAMe (S-Adenosyl-L-Methionine)
* Saw Palmetto
* Selenium
* Soy
* St. John's Wort
T
* Tea
* Thunder God Vine
* Turmeric
V
* Valerian
* Vitamin A
* Vitamin B12
* Vitamin B6
* Vitamin C
* Vitamin D
* Vitamin E
* Vitamin K
Y
* Yohimbe
Z
* Zinc