Female Body Building
Female bodybuilding is the female component of competitive bodybuilding. It began in the late 1970s when women began to take part in bodybuilding competitions.
For those of us with the average body, we are well aware losing weight and building muscle is no small task. Even maintaining a particular physique can be difficult without healthy nutrition and regular fitness training. If one prefers a muscled anatomy, it calls for improving eating and exercise habits. A woman is not naturally muscular, though some women lean to a slimmer body type than others. It takes ample hard work and dedication to become a bodybuilder.
To begin, one must decide whether to cut, or lose weight. Fat that is. It can be a serious challenge to lose weight that takes off fat alone, and not lean. If one decides to begin with adding bulk, that is adding muscle while not adding fat, it is another course of action. Both are important to the desired conclusion, and a plan is a necessity for the ultimate result. Once the goal is set, it is necessary to make a plan for nutrition, exercise, and motivation. As with any challenge, it is not always easy to stay confident, but it is possible to learn to maximize the efforts put into this proposal, without getting off course for too long at a time. Everyone, no matter the object of desire, occasionally has a lapse here and there.
Female metabolism being what it is means a woman must create a serious exercise program. Weight training combined with cardiovascular exercise will help to lose weight and build muscle. Stretching adds flexibility and relieves soreness from the additional activity. A healthy low fat diet consists of complex carbohydrates and high protein. Some examples are boneless, skinless chicken breast, broiled fish and dark green leafy vegetables. Leave the white foods behind. Whole grain breads and pastas are better for everyone to eat. There are many sensible diet plans, books by the score, but if one wishes to make a lifestyle change, it may involve consulting a professional trainer, who has dietetic advice. Calories should come from sources of real food; that is no junk foods. If eating a high protein diet is difficult, there are several brands of protein shakes that are also hearty and good for the human system.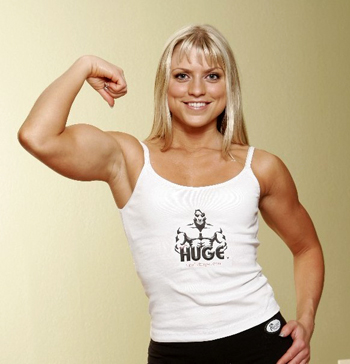 As with any change one makes in a lifestyle, it is best to proceed gently, slowly, with expert advice and training. Properly performed, the applicable diet and appropriate training techniques will help any woman reach the desired affect.
Female BodyBuildingHistory
Physique contests for women date back to at least the 1960s with contests like the Miss Physique and Miss Americana. However, these early "bodybuilding" contests were really not much more than bikini contests. The first U.S. Women's National Physique Championship, promoted by Henry McGhee and held in Canton, Ohio in 1978, is generally regarded as the first true female bodybuilding contest - that is, the first contest where the entrants were judged solely on muscularity (Todd, 1999).
More contests started to appear in 1979. Some of these were the following:
* The second U.S. Women's National Physique Championship, won by Kay Baxter, with Marilyn Schriner second and Cammie Lusko third.
* The first IFBB Women's World Body Building Championship, held on June 16, won by Lisa Lyon, followed by Claudia Wilbourn, Stella Martinez, Stacey Bentley, and Bette Brown.
* The Best In The World contest, held at Warminster, PA on August 18, featuring a $5,000 prize fund, with $2,500 awarded for first place. Patsy Chapman was the winner, followed by April Nicotra, Bentley, Brown, and Carla Dunlap. (Levin, 1980)
* The Robby Robinson Classic, held at the Embassy Auditorium in Los Angeles on August 25. Bentley finished first, also winning best legs and best poser, followed by Brown, Lusko, and Georgia Miller. (Roark, 2005)
Although these early events were regarded as bodybuilding contests, the women wore high-heeled shoes, and did not clench their fists while posing. Additionally, they were not allowed to use the three so-called "men's poses" — the double biceps, crab, and lat spread. The contests were generally held by promoters acting independently; the sport still lacked a governing body. That would change in 1980.
1980 - the start of the modern era
The National Physique Committee (NPC) held the first women's Nationals in 1980. Since its inception, this has been the top amateur level competition for women in the US. Laura Combes won the inaugural contest.
The first World Couples Championship was held in Atlantic City on April 8. The winning couple was Stacey Bentley and Chris Dickerson, with April Nicotra and Robby Robinson in second. Bentley picked up her third consecutive victory in the Frank Zane Invitational on June 28, ahead of Rachel McLish, Lynn Conkwright, Suzy Green, Patsy Chapman, and Georgia Miller Fudge.
1980 was also the year of the first Ms. Olympia (initially known as the "Miss" Olympia), the most prestigious contest for professionals. Initially, the contest was promoted by George Snyder. The contestants had to send in resumes and pictures, and were hand-picked by Snyder based on their potential to be fitness role models for the average American woman. The first winner was Rachel McLish who had also won the NPC's USA Championship earlier in the year. The contest was a major turning point for the sport of women's bodybuilding. McLish turned out to be very promotable, and inspired many future competitors to start training and competing. Stacey Bentley finished in fifth place, in what turned out to be her final competition.
[edit] The 1980s
Rachel McLish became the most successful competitor of the early 1980s. She lost her Ms. Olympia crown by finishing second to Kike Elomaa in 1981, but regained the title in 1982. A new major pro contest, the Women's Pro World Championship, was held for the first time in 1981 (won by Lynn Conkwright). Held annually through 1989, this was the second most prestigious contest of the time. McLish added this title to her collection in 1982. George Snyder lost the rights to the Ms. Olympia in 1982, and after this the contestants were no longer hand-picked, but instead qualified for the Ms. Olympia through placings in lesser contests.
As the sport grew, the competitors' level of training gradually increased (most of the competitors in the earliest shows had very little weight training experience), and the sport slowly evolved towards more muscular physiques. This trend started to emerge in 1983. With McLish not competing in the big shows, Carla Dunlap took both the Pro World and Ms. Olympia titles. Dunlap possessed a much more muscular physique than either McLish or Elomaa, and though she never repeated her successes of 1983, she would remain competitive for the rest of the decade.
In 1984, a new force emerged in women's bodybuilding. Cory Everson won the NPC Nationals, then defeated McLish to win the Ms. Olympia. At 5'9" and 150 pounds, Everson's physique set a new standard. She would go on to win six consecutive Ms. Olympia titles before retiring undefeated as a professional, the only woman ever to accomplish this.
The Ms. International contest was introduced in 1986, first won by Erika Geisen. The contest was not held in 1987, but it returned for good in 1988. Since the demise of the Pro World Championship after 1989, the Ms. International has been second in prestige only to the Ms. Olympia. The 1989 Ms. International was noteworthy for the fact that the original winner, Tonya Knight, was later disqualified for using a surrogate for her drug test at the 1988 Ms. Olympia contest. Consequently, runner-up Jackie Paisley received the 1989 title. Knight was suspended from IFBB competition through the end of 1990, and was forced to return her prize money from the 1988 Ms. Olympia and 1989 Ms. International, a total of $12,000 (Merritt, 2006).
The American Federation of Women Bodybuilders was also founded during this time period, representing a growing awareness of women bodybuilders in America. Winning competitors such as Laurie Stark helped to popularize the federation.