Vitamin B6
Vitamin B6: What is it?
Vitamin B6 is a water-soluble vitamin that exists in three major chemical forms: pyridoxine, pyridoxal, and pyridoxamine It performs a wide variety of functions in your body and is essential for your good health. For example, vitamin B6 is needed for more than 100 enzymes involved in protein metabolism. It is also essential for red blood cell metabolism. The nervous and immune systems need vitamin B6 to function efficiently, and it is also needed for the conversion of tryptophan (an amino acid) to niacin (a vitamin)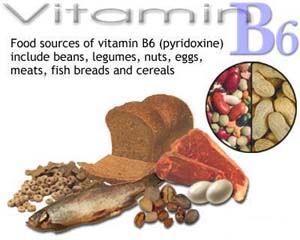 Hemoglobin within red blood cells carries oxygen to tissues. Your body needs vitamin B6 to make hemoglobin. Vitamin B6 also helps increase the amount of oxygen carried by hemoglobin. A vitamin B6 deficiency can result in a form of anemia that is similar to iron deficiency anemia.
An immune response is a broad term that describes a variety of biochemical changes that occur in an effort to fight off infections. Calories, protein, vitamins, and minerals are important to your immune defenses because they promote the growth of white blood cells that directly fight infections. Vitamin B6, through its involvement in protein metabolism and cellular growth, is important to the immune system. It helps maintain the health of lymphoid organs (thymus, spleen, and lymph nodes) that make your white blood cells. Animal studies show that a vitamin B6 deficiency can decrease your antibody production and suppress your immune response.
Vitamin B6 also helps maintain your blood glucose (sugar) within a normal range. When caloric intake is low your body needs vitamin B6 to help convert stored carbohydrate or other nutrients to glucose to maintain normal blood sugar levels. While a shortage of vitamin B6 will limit these functions, supplements of this vitamin do not enhance them in well-nourished individuals.
What foods provide vitamin B6?
Vitamin B6 is found in a wide variety of foods including fortified cereals, beans, meat, poultry, fish, and some fruits and vegetables. The table of selected food sources of vitamin B6 suggests many dietary sources of B6.
Vitamin B6 - pyridoxine - is required for
Pyridoxine is required for the balancing of hormonal changes in women as well as assisting the immune system and the growth of new cells. It is also used in the processing and metabolism of proteins, fats and carbohydrates, while assisting with controlling your mood as well as your behavior. Pyridoxine might also be of benefit for children with learning difficulties, as well as assisting in the prevention of dandruff, eczema and psoriasis.
It assists in the balancing of sodium and potassium as well promotes red blood cell production. It is further involved in the nucleic acids RNA as well as DNA. It is further linked to cancer immunity and fights the formation of the toxic chemical homocysteine, which is detrimental to the heart muscle.
Women in particular may suffer from pre-menstrual fluid retention, severe period pains, emotional PMS symptoms, premenstrual acne and nausea in early pregnancy. Mood swings, depression as well as loss of sexual drive is sometimes noted when pyridoxine is in short supply and the person is on hormone replacement therapy or on birth control pills.
Deficiency of vitamin B6
Irritability, nervousness and insomnia as well as general weakness, skin changes such as dermatitis and acne as well asthma and allergies might develop when pyridoxine is in short supply. Symptoms may include nails that are ridged, an inflamed tongue as well as changes to your bones - which can include osteoporosis and arthritis. Kidney stones may also appear.
Vitamin B6 deficiency symptoms will be very much like those of B2 and B3. Vitamin B6 is needed by the body to manufacture its own B3 vitamin.
Dosage
The dosage underneath is the Recommended Dietary Allowance (RDA), but be aware that this dosage is the minimum that you require per day, to ward off serious deficiency of this particular nutrient. In the therapeutic use of this nutrient, the dosage is usually increased considerably, but the toxicity level must be kept in mind.
Males 2 mg per day and females 2 mg per day.
Toxicity and symptoms of high intake
Supplementation should be controlled as extreme dosage, such as in excess of 2,000 mg per day, may cause neurological damage.
People on medication for Parkinson's disease should be careful about taking Vitamin B6 as it can inactivate levodopa.
People taking pyridoxine late at night sometimes experience very vivid dreams.
Best used with
Pyridoxine should be taken together with the entire B group vitamins, and in supplementation the quantity of B6 should be nearly the same as B2, as the B 2 is needed to activate the Pyridoxine.
Vitamin C is a good partner in nutrition and magnesium, sodium, potassium, zinc, linoleic acid and fatty acids make good running mates.
When more may be required
Should you be taking antidepressants, contraceptive pills or be on hormone replacement therapy you may need more of this vitamin. As this vitamin is readily lost in the urine, it must be taken regularly to ensure an adequate amount in the body.
Anybody on a very high protein diet, using alcohol, or allergic to MSG (mono sodium glutamate) and/or tartrazine may also consider increasing their vitamin B6 intake.
Enemy of vitamin B6
Pyridoxine is sensitive to sunlight, cooking and processing Cortisone is known to impair the absorption of pyridoxine.
Other interesting points
Exercising may aid the production of the active form of vitamin B6.
Food sources of vitamin B6
Good sources to obtain pyridoxine from are brewer's yeast, eggs, chicken, carrots, fish, liver, kidneys, peas, wheat germ, walnuts