Health Supplement
Dietary health supplements (also called nutritional supplements, or supplements for short) were defined in a law passed by Congress in 1994. A dietary health supplement must meet all of the following conditions:
* It is a product (other than tobacco) that is intended to supplement the diet and that contains one or more of the following: vitamins, minerals, herbs or other botanicals, amino acids, or any combination of the above ingredients.
* It is intended to be taken in tablet, capsule, powder, softgel, gelcap, or liquid form.
* It is not represented for use as a conventional food or as a sole item of a meal or the diet.
* It is labeled as being a dietary supplement.
Dietary supplements are purchased in grocery, health food, drug, and discount stores, as well as through mail-order catalogs, TV programs, the Internet, and direct sales.
Is using dietary supplements considered conventional medicine or complementary and alternative medicine (CAM)?
Some uses of dietary health supplements have become part of conventional medicine. For example, scientists have found that the vitamin folic acid prevents certain birth defects, and a regimen of vitamins and zinc can slow the progression of the eye disease age-related macular degeneration.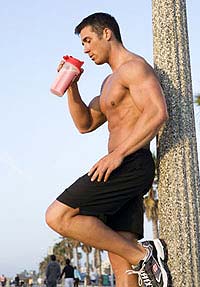 On the other hand, some dietary health supplements are considered to be CAM--either the supplement itself or one or more of its uses. An example of a CAM supplement would be an herbal formula that claims to relieve arthritis pain, but has not been proven to do so through scientific studies.
Conventional Medicine
Conventional medicine is medicine as practiced by holders of M.D. (medical doctor) or D.O. (doctor of osteopathy) degrees and by their allied health professionals, such as physical therapists, psychologists, and registered nurses. Other terms for conventional medicine include allopathy; Western, mainstream, orthodox, and regular medicine; and biomedicine.
Complementary and Alternative Medicine (CAM)
CAM is a group of diverse medical and health care systems, practices, and products that are not presently considered to be part of conventional medicine.
Complementary medicine is used together with conventional medicine, and alternative medicine is used in place of conventional medicine. Some health care providers practice both CAM and conventional medicine.
There is scientific evidence for the effectiveness of some CAM treatments. But for most, there are key questions yet to be answered through well-designed scientific studies, such as whether they are safe and work for the diseases or conditions for which they are used.
The National Center for Complementary and Alternative Medicine (NCCAM), part of the National Institutes of Health (NIH), is the Federal Government's lead agency for scientific research on CAM.
Dietary Supplement Fact Sheets
A
* Aloe Vera
* Anabolic Steroids
* Astragalus
B
* Bilberry
* Bitter Orange
* Black Cohosh
* Botanical Dietary Supplements
C
* Calcium
* Carnitine
* Cartilage
* Cat's Claw
* Chamomile
* Chasteberry
* Chondroitin
* Chromium
* Coenzyme Q10
* Colloidal Silver
* Cranberry
D
* Dandelion
* Dietary Supplements
E
* Echinacea
* Ephedra
* Essiac/Flor-Essence
* European Elder
* Evening Primrose Oil
F
* Fenugreek
* Feverfew
* Fish Oil
* Flaxseed
* Folate
* Frequently Asked Questions
G
* Garlic
* Ginger
* Ginkgo
* Ginseng
* Glucosamine
* Goldenseal
* Grape Seed Extract
* Green Tea
H
* Hawthorn
* Herbal Dietary Supplements
* Hoodia
* Horse Chestnut
I
* Iodine
* Iron
K
* Kava
L
* Lavender
* Licorice Root
M
* Magnesium
* Melatonin
* Milk Thistle
* Mistletoe
* Multivitamin/Mineral Supplements
N
* Noni
O
* Omega-3 Fatty Acids
P
* PC-SPES
* Peppermint Oil
R
* Red Clover
S
* SAMe (S-Adenosyl-L-Methionine)
* Saw Palmetto
* Selenium
* Soy
* St. John's Wort
T
* Tea
* Thunder God Vine
* Turmeric
V
* Valerian
* Vitamin A
* Vitamin B12
* Vitamin B6
* Vitamin C
* Vitamin D
* Vitamin E
* Vitamin K
Y
* Yohimbe
Z
* Zinc